We have talked about some basics in Piano regulation, Piano tuning and Piano voicing this week.  I wanted to talk about Piano Moving and tell you some things that you may or may not be aware of.
While PianoSD uses Paul McCloud at Accutone Piano Service, www.pianoservsd.com for our all of our piano techinician needs.  We use Precision Piano Moving at www.PrecisionPianoMoving.net for all of our moves and heres a few reasons why.
A few of the things that have to be seen and realized about moving pianos is that it is important to understand where the piano is now in relation to where it is going.  For example if it is coming out of a home that is in a humid area or dry area it has to be  taken into consideration.
Precision Piano Movers located in the PianoSD building in Mission Valley, San Diego, Ca moves a lot of pianos every week.  We see them coming from very dry areas moving to very humid areas and vice versa.  When a piano is leaving one climate for another, or from a room that is cool to a fully sunlit room the piano needs to go through an acclimation time of up to three months depending on the extremes in changes.  After the acclimation time the piano should be tuned and if needed a regulation, and voicing would be in order.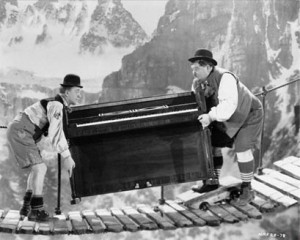 Upright pianos are generally the easiest to move.   If the piano is going upstairs Precision would simply bring the necessary tools and equipment to do this.  Of course, some "upright" pianos are 36″ tall while others may be up to 52″.  This is  important information for your movers to know BEFORE they arrive to move your piano.  If the legs are decorative, they are wrapped up and blankets are put around the piano for safe keeping and then the piano is placed on a four wheel dolly and taken to the truck for transportation to its destination.
Grand pianos can be a little more challenging.  Most of the time one leg is taken off and balanced on the lyre that has been very quilted for strength.  It is laid on its side and stood upright.  Then the other two legs and lyre come off .  It is blanketed and put on a skid board, transferred to a dolly and then put on the truck for transportation.  The important thing is how many steps is it going down (or up) and what kind of equipment should be used needs to be understood BEFORE the piano is moved.
Regardless of whether the customer is using Precision Piano Moving or some other company, it is important to note that you should NEVER trust someone who is not a professional piano mover to move your piano and MOST DEFINITELY do not move it alone.  To many injuries and to many accidents are caused every year by people who try to do this by themselves.
Drop by sometime we would love to meet you.
Ric Overton