I have written about these guys before several years ago. I just had to spend a moment talking about them again.
WHO ARE THEY?
Hope Walter and her husband Kevin have an unrivaled team of professional piano movers at Walter Piano Transport . They expertly execute professional and private piano moves all over the United States.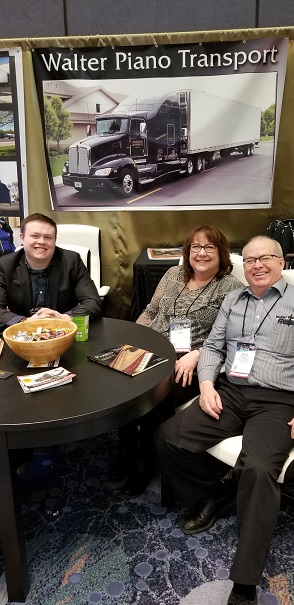 WHY HIRE A PROFESSIONAL?
Some wrongly assume they can handle their piano move by themselves. They put their prized possession in the hands of furniture movers who know nothing (all though all movers say they handle pianos) about moving pianos.
I get calls on a regular basis from customers who have moved across country or across the state or across town complaining that they have lost parts of their grand pianos or have a broken pedal on their upright. Worse yet, there are a lot of broken legs and damaged case parts because "the guy who said he knows how to move pianos" doesn't.
Hope and her staff are not only pros at moving but more importantly, they love what they do and do it with the care your piano needs.
WHAT INFORMATION DO THEY NEED TO GIVE A QUOTE?
Generally speaking they are going to need to know where you are moving from and if there are any steps, strange turns, etc. Then, of course, they need to know if they are moving an upright or a grand and what size they are. If you are not sure, if you can provide a model of your piano they can help figure that out.
Trust me – if you are moving across the country trust a group of professionals to handle the job. You will be glad you did. Take a look at their website here, give them a call and get a quote on your next job.
Ric Overton