It's seldom that you have the opportunity to meet and become friends with someone that you consider a "star".  I have known a few celebrities in my life, the occasional chance meeting of someone that you see on T.V. or read about in the newspapers, etc.   With that being said, I just want you to know that I am completely aware of the fact that I am weird and a little twisted when it comes to the piano business and piano people.
It has been my delight over the years to meet what I consider famous people in our industry.  I have met Mr. Fazioli, Mr. Sauter, Mr. Steinway and Mr. Bluthner just to name a few as well as famous retailers like Vern Schaffer and leaders like Dennis Houlihan and others that I admire and respect. I also have had the privilege to meet  and get to know Scott Houston and also the gentleman that I  wanted to tell you about today.
Larry Fine has been writing The Piano Book and more recently Piano Buyer for many years.  He has been known as a mainstay for many piano enthusiasts, buyers and retailers and has helped our industry move forward with up to date information about pianos and other articles about things that we are all interested in.
Yesterday I got an article that was printed in the San Francisco Chronicle entitled "Spring 2012 "Piano Buyer" Features History of Upright Piano Cabinet Styles"
Click on the picture below to see that article.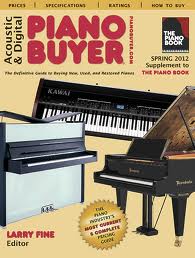 This is a fascinating read to me because I really love these pianos and I am always, always amazed at what a real pro can do to revitalize the pianos in this vintage.
I hope you enjoy the article as much as I have and when you have the time click over to http://pianobuyer.com and see what else Mr. Fine has to say about the piano that you love.
Ric Overton
http://PianoSD.com
Tags: Bluthner piano, Fazioli piano, http://pianobuyer.com, larry fine, Ric Overton, Sauter Piano, Scott Houston, Steinway Piano, Vern Schaffer